The aim of the 'Stories of Care' project is to capture and amplify the stories of Filipinx/a/o care workers, and the impact of the pandemic on them. So far, the project has revealed stories of employment, unemployment, family, grief, healing, community and resilience.
This project is built on individual stories, relationships and trust. The work is centred on acts of self-care as parts of community care and the ever-growing tension between advocating and being grateful for what they have.
Before the pandemic, research showed that "34.4% of internationally-trained nurses are from the Philippines, with a study from 2008 showing that although Filipinos constitute 1.2% of the Canadian workforce, they constitute 5.6% of Canada's total health care aide labour force. While there has yet to be a study updating these figures, it is reasonable to assume, given how the Philippines has become Canada's third largest 'source' country for immigrants (after India and China), that the proportion of Filipino workers in Canada and thus, the proportion of these workers who are part of the healthcare industry, has grown bigger." (Web source: https://www.broadbentinstitute.ca/filipino_healthcare_workers_during_covid19_and_the_importance_of_race_based_analysis)
As the project lead, Jennifer Chan reflects "this project, as well as many others in the past year, has made me begin to explore and learn more about trauma-informed design practices. Up until a few years ago, I believed it was enough to integrate community development and people-centred design practices and tools together to do this work. I no longer think that is true. Especially in communities that are already over surveyed and over-researched in colonial ways, I think it is extremely important to be critical of the approaches that are recognized and celebrated as innovative. This project was built on relationships and trust, the stories that were shared on paper were not the same as the ones shared verbally or confidentially. As a designer, researcher and project lead, it is my job to keep their stories safe until the individuals are ready to share them. Sharing a story under duress is a tool of colonization and can be retraumatizing."
Through an opportunity with the 2021 DesignTO festival, we were able to extend the reach and impact of this work through the collaborative work of 3 Filipinx artists and the stories of 5 Filipina care workers.
'Stories of Care' is a collaborative project presented by the Department of Imaginary Affairs. The project would not be possible without the vulnerability, joy, generosity of time and care for the community that has been shared by Leny Rose, Ollie Dela Cruz, Gretchen Mangahas, Elda Almario, Elvin Velasco, Carmina Miana, Mary Joy Pascua and Lilibeth Galapon. 'Stories of Care' is made in tribute to the Filipinx caregivers and migrant workers we have lost in 2020.
Additionally, through The Stories of Us, the 5 initial stories collected through the 'Stories of Care' have been translated, designed and will be added to our library later this year.
What does care from afar mean to you?
This zine was created by workshop participants who attended Cultivating Care. Cultivating Care are bilingual writing workshops for Filipinx/a/o care workers, facilitated by Justine Abigail Yu, founder & editor-in-chief at Living Hyphen.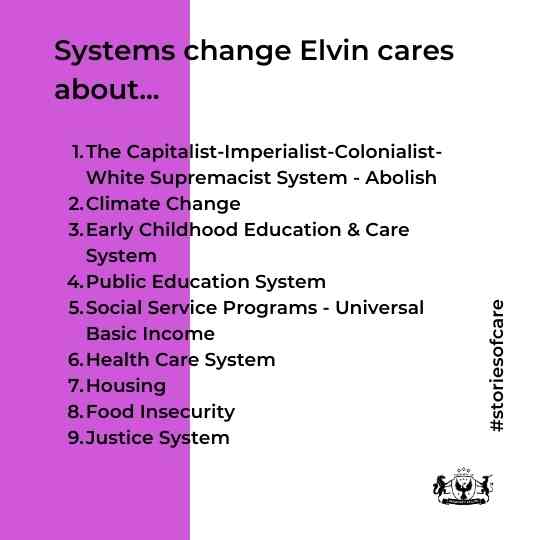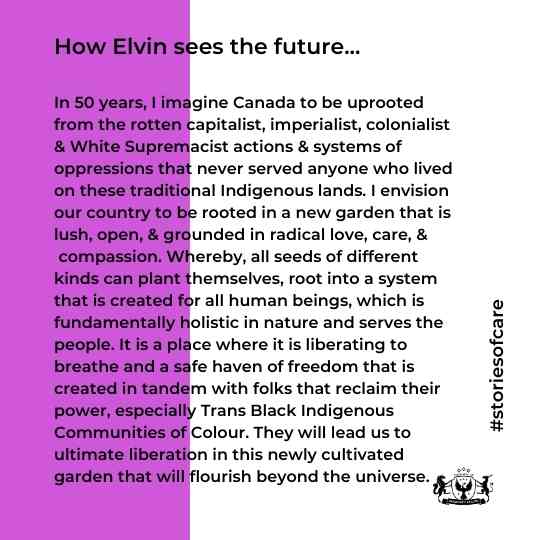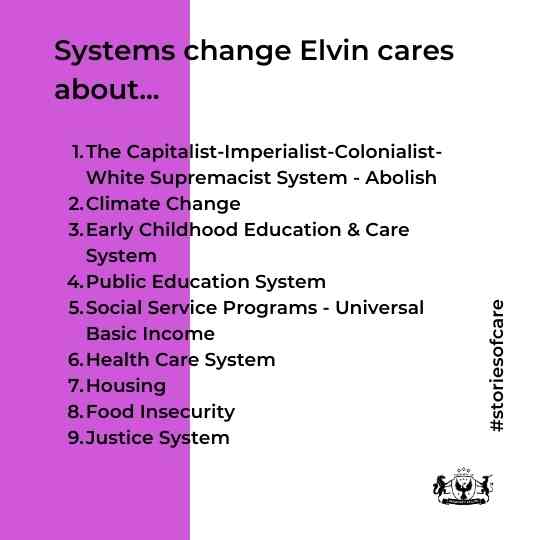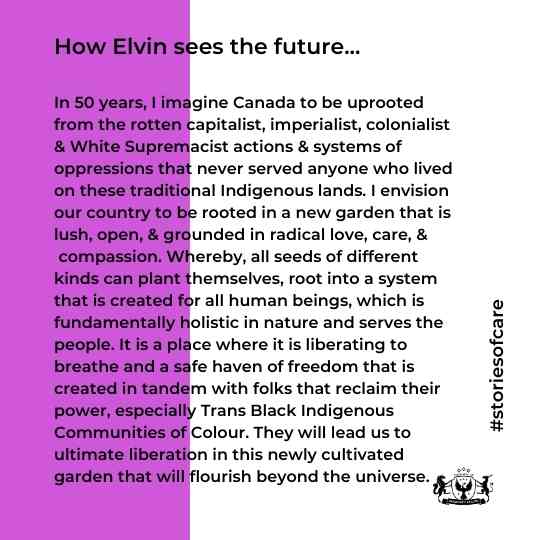 Background
How we care for each other, for ourselves and how we let others care for us is changing. Now more than ever, we are rethinking how we care. During this ongoing pandemic, we are all having to adapt.
Some of us are holding on to what we valued in the past, some of us are living in the present, some of us are imagining the future, and some of us are doing all at the same time.
In our own ways, we are all in an ever-changing process of surviving, changing, grieving, healing and recovering.
With an invitation to participate in DesignTO festival 2021, two new projects were born to look at how care is evolving in our society and communities. These installations are part research, part art, part discovery, part self-care, part community-care. The DesignTO installation will run from Jan 22 – February 28, 2021.
'Stories of Care' is a tribute and statement to the role that Filipina caregivers, frontline and essential workers in taking care of us before, during and after the pandemic. The 3 visual art installations created are inspired by the stories of 5 caregivers who represent the many facets of what it means to be Filpina caregiver in Canada and the joy, sorrow and love that is a part of that experience. 'Stories of Care' is an evolution of a community storytelling project that started at North York Community House.
"Care | Past, Present, Future" is a collaboration piece that is a reflection tool and art piece. This piece captures the ever-evolving versions of care and how they are changing at an extremely rapid pace because of COVID.