The start of the summer brings the start of a new chapter in my time with the Department of Imaginary Affairs. As I step into the role of the new Board President, I'm looking back on my past with the DIA as we move into the future.
First, to introduce myself — I'm Alex! I'm from Toronto and I currently do communications work for a Canadian human rights nonprofit. My MA is in Peace & Human Rights Education, and I've worked and lived in New York, Buenos Aires, Tokyo, and Dili, Timor-Leste. Some key threads have woven their way through my teaching, writing, and work:
What does it mean to move across and through the world? Whose stories are heard and whose are retold/repeated? How do we bridge huge gaps between newcomer populations and those that haven't resettled in a new place?
These questions were swirling around my head when I first came in contact with the DIA at Harbourfront Centre's Exile Festival in the summer of 2018. I was strolling from the Power Plant on a beautiful sunny day and stopped for the organization's eye-catching logo (as I'm sure many of you have!). I started talking to Jenn and we met for coffee a few weeks later. Once I saw the early versions of books in the Stories of Us library, I was hooked. They were so beautiful, honest, and told stories I felt needed to be read — by language learners learning English but also those learning the mother tongue of the story.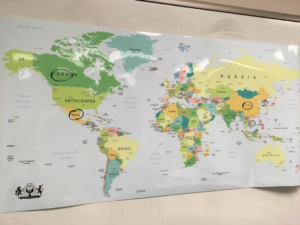 I became a volunteer and accompanied Program Manager Mathura to workshops across the GTA. I was at the first Ontario Culture Days workshop at the York Woods Library with Blair, Mathura, and an incredible group of storytellers. I still remember some of the beautiful things said that day and remember how energized I felt leaving the room. You can read an earlier reflection on my experiences in the Stories of Us workshops on the DIA blog here.
After joining the board earlier this year, I've tagged along to an event at Evergreen Brickworks, workshops around the GTA, and our Teacher Design Lab in Toronto. All have surprised me with the wonder people have for the DIA's creative approach to storytelling, resettlement, and envisioning the future. It's been a pleasure connecting with other champions of DIA's work, respected and knowledgeable experts in their fields.
I was out of the country (ahh, pre-COVID times) when I received a call from Blair asking me to serve as the next Board President. I jumped at the opportunity to get more involved, and as I step into the role, I'm excited about a number of things. My background as an educator and communications specialist and previous work with refugee and newcomer populations (from age 7 right up to seniors) informs how I'll approach the work — through a community-centred, future-focused perspective.
DIA's work energizes me and explores a space that feels personally and professionally rewarding because of my own family's history of migration and my passion for creative approaches to engaging with communities. I'm also looking forward to working with the Board and the team to build connections and spread the word about the DIA; I really want to increase our presence and name recognition during my time as President.
I hope that, if you're reading this, you're safe and have found some pockets of comfort and joy during these scary times. I know the DIA's #LettersToOurFuture project has been a large part of my quarantine, so I encourage you to submit your own letter and check out others' on Facebook, Instagram, and Twitter. As I wrote in my letter, "How do we begin to imagine and then implement a future that looks so radically different from anything we've ever lived?" My involvement with the DIA has given me some space to imagine and implement, and I'm grateful for that. Check out the latest COVID-19 meditation led by Mathura, and get imagining.